"They Said What?"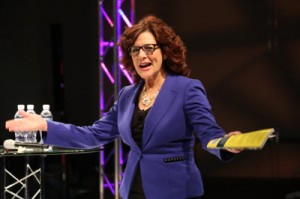 "Let's take your car…mine has dog hair all over the seats"
"Oh, that must be the new school (looking out the model window)….people ask me about the teachers and the school and I just say "I don't know"…..(shoulder shrug)
"I sometimes put a sign on the door that I'm out but really go to the mall shopping…you're not one of those shoppers, are you (giggles)?"
This program will teach on site salespeople how to "ace" their shop, welcome the feedback to make critical improvements and watch the video shop with an open mind.
In addition, this program will address:
How top performers use video shop feedback to sell more homes
How to avoid the numerous mistakes we see low performers make!
How to get over feeling "nervous" if you "feel" you are being shopped on film.
"State of the Union" from shopper land. Stats on closing, follow up, selling the builder, etc.
Good, Bad and Ugly things we have seen that you won't believe! Can't make this stuff up!
Sales Meeting Topics
Hire Melinda to come to your next sales meeting and deliver a 30-60 minute session on the topic of your choice:
Topics:
Setting and Achieving Sales Goals
Negotiation Tip for Today's Buyer
Closing the Sale / Creating Urgency
Handling Difficult Objections
Building Instant Rapport
Discovery Questions
Listening Skills
Entrepreneurial Marketing—Creating Endless Traffic
Turn Ring to Bling
Creative Follow Up
Benefit Selling Your Unique Brand
10 Tips for a Terrific Tour
10 Lessons Learned in over 25,000 Mystery Shops
Back in Black—Hometown Heroes in New Home Sales
Can you Sell Like a 5 Year Old